On 26th August 2020, a 1 MWp distributed PV project that was constructed by Sunways entered operation in DingAn Electrical company, Cixi, Zhejiang province. This power plant has been operating stably for nearly two months now.
01 Project Overview
This distributed PV project occupied two roofs of the factory with an area of about 10000㎡ and used 15 pcs of Sunways STT-60KTL inverters which delivered the total capacity of 1MW.
In terms of inverter selection, DingAn chose to cooperate with Sunways not only because of the inverters' features of high-efficiency, high-AC overloading ability, and lower O&M costs but also because of the inverters' excellent performance in safety. Sunways STT-60KTL is designed with 6 MPPTs and 12 PV inputs, and each two PV inputs are paralleled in one MPPT. The 1100V PV input voltage makes it available for 150% PV oversizing in a long period and 1.1 times continuous and stable overloading on the AC side which ensures a lower LCOE.
In terms of safety, compared with the traditional three or more PV  strings paralleled in one MPPT circuit inverter, Sunways STT-60KTL designed with two PV strings in one MPPT circuit, which can realize short-circuit protection without fuses, more safe and reliable, convenient in O&M.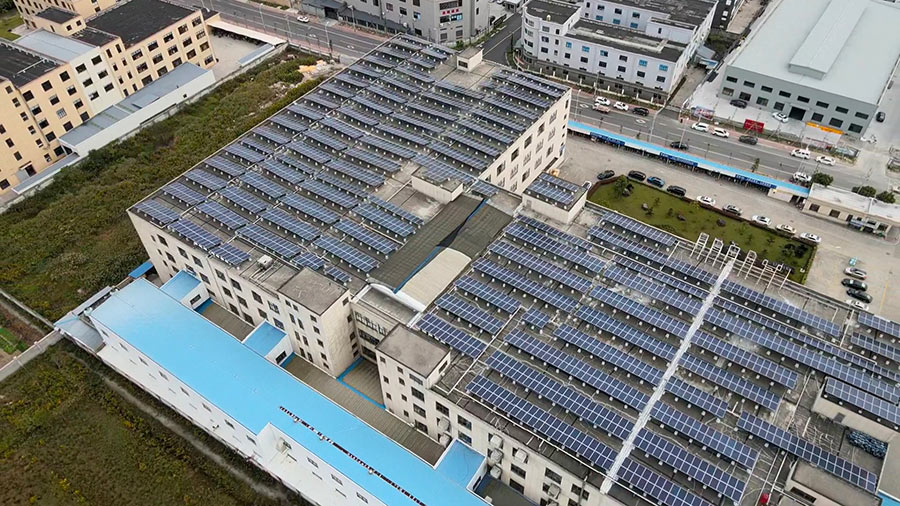 02 Estimated Income
Taking the sunlight exposure in Zhejiang province and the performance of Sunways inverters into account, this 1MW power plant is estimated to generate about 1,000,000 kWh a year under the condition that the inverter has a stable and continuous overloading output of 1.1 times in AC output.
According to the industrial electricity price in China, the electricity generation of this 1MW project can save about 800,000 yuan every year in electricity bills for the company. Taking the designed lifespan of this project is 25 years into consideration, this project can save the electricity bill for the company up to 20,000,000 yuan.
03 Environmental Contribution
With the rapid development of the global economy,  various environmental incidents such as air pollution and water pollution are frequently exposed. Faced with this situation, companies should also strengthen their attention to environmental issues while pursuing their own development. By using these two idle roofs, it can generate about 100kWh electricity every year, which equals to reducing 400 tons of standard coal using, 1000 tons of CO2 and 9 tons of SO2 emissions.
On the other hand, offer reliable, eco-friendly and economic solar inverters and energy storage for the ever-changing needs of society, to develop energy solutions for the future and to share these solutions with broader groups through operating effectively in the national and global renewable energy market.-This is not only Sunways's vision but also a goal that every Sunways employee has been working hard to implement. DingAn's project is just the beginning and in the future, we will have more power plants installed everywhere in the whole world.